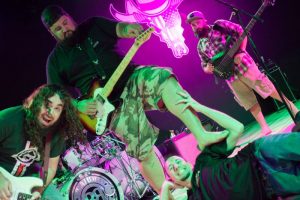 EVERYTHING IS BETTER WITH A BEARD ON IT!
*This is not a ticketed event. Cover Charge at the door. Cover Charge $5.00 21+ $10.00 Ages 18-20
On band nights tables go quickly. We highly recommend you reserve a table so you & your friends will be guaranteed a table to party all night long!
Floor tables $35, which includes Cover Charge for up to 4 people. VIP Lounge Tables $60, which includes Cover Charge For up to 4 people, No Wait Entry, Private Bar Access in our Whiskey Bar Lounge & Private Bathroom. Reserve Your Table Now Call 727.939.9494 Option 2
The Bearded Brother's Band is comprised of 5 of the most energetic, fun loving, passionate musicians. The 5 piece, based in New Port Richey Florida, is anything but your average bar band. Three and four piece harmonies, two blazing guitars, and a rhythm section with a sweet groove and a deep pocket! The party these boys bring is second to none! First you've got the boys that started the band, Thomas G and Ryan Embry. Thomas, originally from New York, but Florida raised, has a voice and a cadence that is as original as it is unforgettable. The Bearded Brothers will bring a mix of Country & Southern Rock to The Stockyard Saturday, December 16th